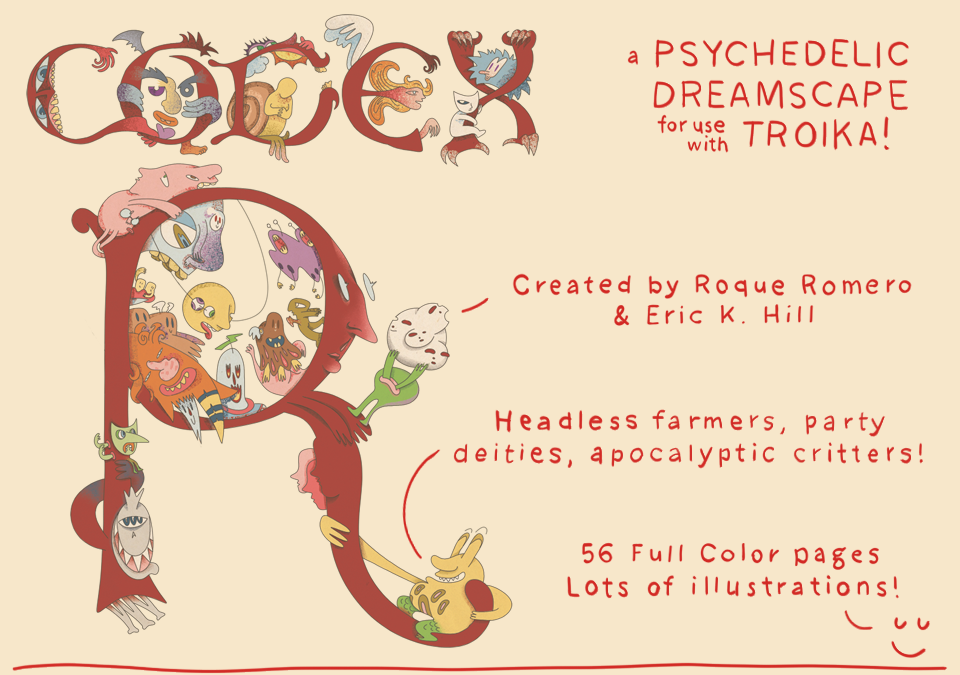 Codex R
A downloadable Troika Setting
Codex R is a kaleidoscopic excursion in space-time, cataloging headless farmers, party deities, apocalyptic critters, bad hair days and totalitarian practices. Trade celebrity skins with collectors! Meet a friendly ambulatory building! Joust with carnivorous gastropods! Help lost souls find the best afterlife! Compatible with Troika! but fitting as inspiration for any fantasy game, it includes:
46 entries all with full color illustrations.
An illustrated mini adventure.
Table of events and adventure seeds.
Plenty of ideas ripe for your adventures.
Written by Roque Romero & Eric K. Hill.

All illustrations by Roque Romero.
Layout by Eric K. Hill.
Edited by Jarrett Crader.

Get the fancy print version from Exalted Funeral! :)

Codex R is an independent production by Roque Romero and is not affiliated with the Melsonian Arts Council.

Purchase
In order to download this Troika Setting you must purchase it at or above the minimum price of 6.00€ EUR. You will get access to the following files:
Exclusive content
Support this Troika Setting at or above a special price point to receive something exclusive.
Comments
Log in with itch.io to leave a comment.
I did a review as part of #HallowZine
Wowzer, love that art! :O

Would it be possible to please get a singles layout version of the PDF, rather than spreads?
Thanks for your kind words... I'm afraid my layout buddy is lost in the wilderness, but if he pops up someday will ask him about it ;D
When I saw the art for this, I literally jerked my head backwards in impressed reaction! So cool looking. I can't wait to read it.
Thanks for such an enormous compliment, hope you find it fun and inspiring once you read it ;D
LOVED it. (I waited on the physical copy to read it.) I just released a review of it on my garage style podcast - Talking Codex R, an unusual bestiary/setting with a kaleidoscopic totalitarian vibe.
So awesome, thanks for sharing your thoughts about it, and yes, you are completely correct about our inspiration: Fantastic Planet or the work of surrealist painter Remedios Varo are there, or works like the cryptic Codex Seraphinianus or the Voynich Manuscript were on the back of our heads, with some Polish movie posters and more tasty stuff. Thanks so much for your time and your kind words, Ray ;D